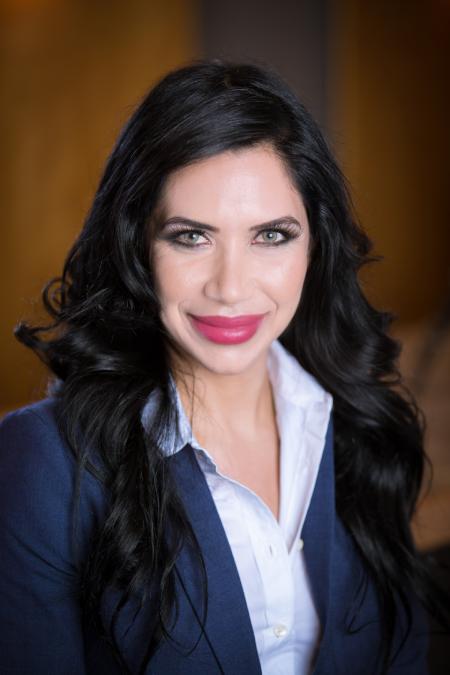 Laleh Ensafi- Lead Attorney
Laleh Ensafi, Esq. is a graduate of the University of California Los Angeles and subsequently earned her Juris Doctor from University of West Los Angeles. Following law school, she worked for some of the largest and most reputable full-service civil litigation firms in Los Angeles. For over 11 years, she has specialized in Workers Compensation and Bankruptcy Law. During her tenure, she has worked with a large variety of clients and employers. She has handled hundreds of cases, succeeded in many cases at trial, and produced great overall results for his clients. As a founder of Ensafi Law, she specializes in Workers Compensation Law, Personal Injury, Employment Law and Bankruptcy. She is a member of the Los Angeles County Bar Association and National Association of Consumer Attorneys. Her team has over 30 years of combined experience in worker's compensation alone!.
We believe that workers' rights are human rights, inalienable and fundamental. This includes protection from employers who do not provide a safe and properly functioning workplace so that you do not suffer undue injury or illness. There are various state and federal laws that may apply in your case, but the basic truth is that your employer should be held responsible for their actions. If you have suffered a workplace injury and live in Long Beach or the South Bay area, then reach out to Workers' Compensation Attorney right away.
Why Do You Need Legal Representation?
A workers' compensation case is particularly complex. There is an intersection between state and federal labor laws as well as personal injury and liability statutes. It requires a keen legal mind with years of experience under their belt to effectively and efficiently navigate this potential minefield.
You need our law firm to help you:
Respond to medical treatment denials.
Arrange for you to see an independent medical expert to give their balanced opinion.
Help you to file the potentially overwhelming workers' compensation claim paperwork.
Interact with the extensive California bureaucracy that deals with these claims.
You Deserve To Be Compensated for Your Injury
It is likely that your employer and their insurance company will fight your claim and try to leave you with nothing. We have seen this scenario play out countless times before and we believe that it is fundamentally unjust to treat people this way. They will try any number of unsavory tactics, including accusing you of lying.
They will also take advantage of the fact that you are injured and in no shape to fight back. You have been a hard-working employee and you don't deserve this treatment: let us take the wheel and fight on your behalf.
Why Should You Choose Us?
Extensive Experience - We have years of experience in workers' compensation cases.
Skillful Attorneys -The attorneys at our firm are highly-qualified and know how to win cases and recover compensation.
Effective Representation -We will fight on your behalf and see your case through, from beginning to end.
No Compensation, No Fee -Our firm operates on a contingency fee system, meaning our payment depends on you winning your case.
This Is Our Specialty -Some firms spread themselves too thin; we focus all our effort and resources on these types of cases.
Excellent Customer Service - Our entire firm, from counselors to support staff, are ready to assist you throughout this difficult and trying time.
Open Communication -We communicate with our clients and are always available to answer questions or give updates.
A Law Firm with Integrity -Based on our formidable reputation, you can trust us to present the strongest possible case on your behalf.
Our Contacts and Network
Winning a workers' compensation case frequently requires more than just legal wrangling; there is an important component of medical expertise as well. Workers' Compensation Attorney has fostered these necessary relationships with outside experts to help us win cases and recover compensation.
We have worked with a variety of qualified medical examiners (also known as QMEs) to bolster our legal arguments. These QMEs are board-certified physicians who are overseen by the Division of Workers' Compensation - Medical Unit to give medical examinations and evaluate employee disability. They are, in other words, invaluable allies and can make or break your workers' compensation case.
Contract With Your Employer
You depend on your occupation to make a living and your employer depends on you to make the company function. This is, in essence, the employment contract you enter into once you begin work. It can be unspoken or rendered in writing; according to California labor law, both of these are valid contracts.
Another component of this contract is the fact that your employer has a legal obligation to provide a safe and disease-free work environment so that you may effectively hold up your end of the agreement. They are legally required to maintain a certain standard of safety and care as well as obeying various safety regulations as delineated by California labor laws.
Failure to do so, and your resulting injury, are then the legal responsibility of your employer. They are subject to various personal injury statutes, including strict or general liability, as well as workers' compensation requirements. If you have suffered an injury or an infection while performing your job, you are likely entitled to significant compensation.
Time Is Of The Essence
There is a concept in both state and federal law that is referred to as the "statute of limitations". This means that you have only one (1) year from the date of your work-related injury or infection. Failure to file a workers' compensation claim within this timeframe effectively means that you forfeit your right to do so.
Because of this statute of limitations, you must contact our firm immediately following your injury. Doing so will allow us to be present from the very beginning for you, effectively guiding you every step of the way so that we can build the strongest possible case for you.
Start Building A Paper Trail
It is crucial that you get medical treatment immediately. This will effectively start building your case and prove that you have been the victim of a workplace injury or infectious disease. If you decide to forego this important step, then your employer or their insurance company may be able to effectively argue that your injury was not significant enough to merit workers' compensation.
Help us build your case by creating a paper trail. Every shred of evidence and every detail in your story will make your case that much stronger. Share with us everything that has happened so that we may create a legal strategy that is specific to your situation.
Find A Lawyer Near Me
We like to see justice done; that is one of our guiding principles. This includes instances where a hard-working employee such as yourself has been bullied by more powerful entities like your employer or their insurance company. You need Workers' Compensation Attorney in your corner, going to battle for you so that you may get your just remuneration. Call 714-716-5933 today and receive your free initial consultation.